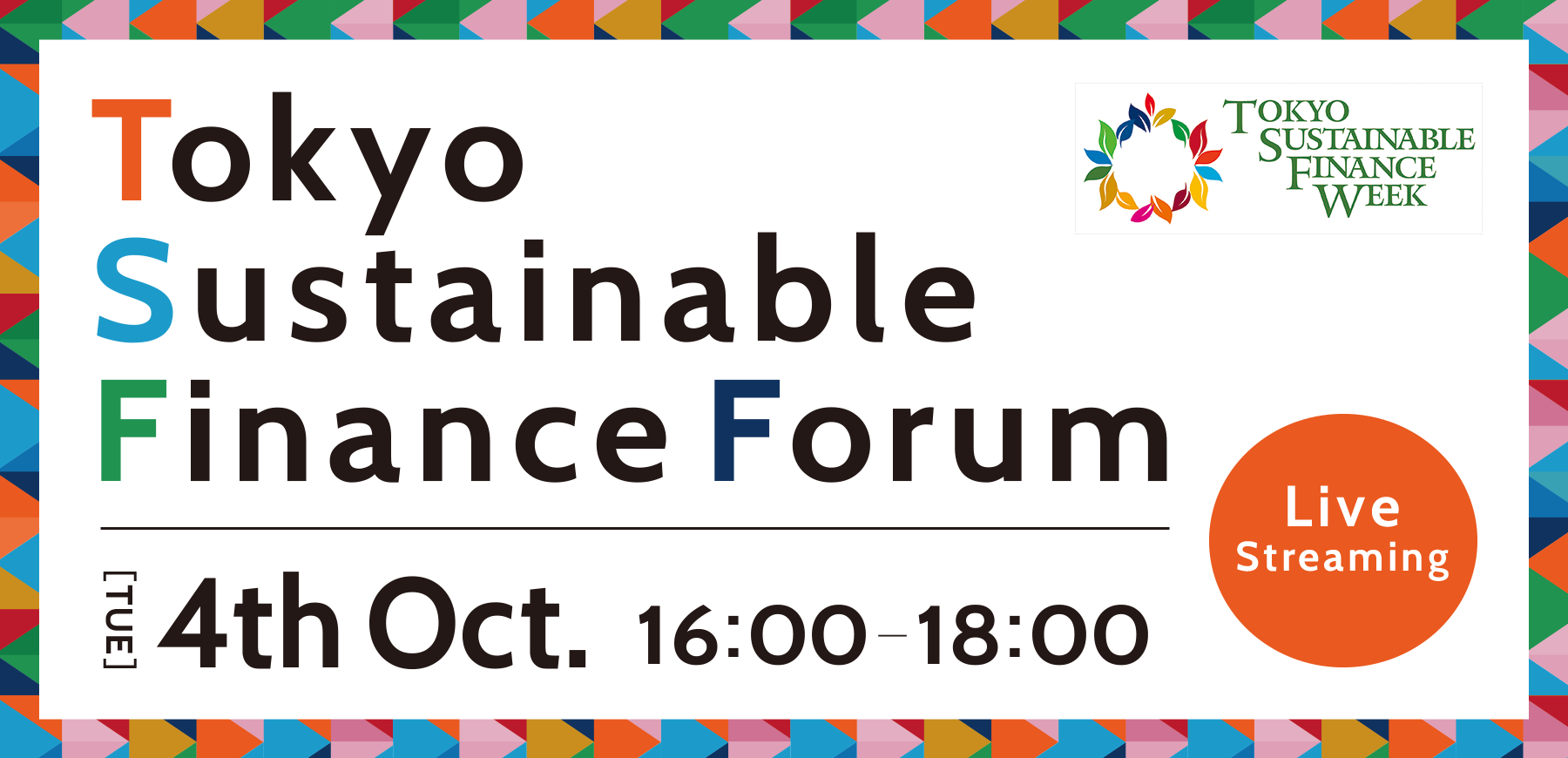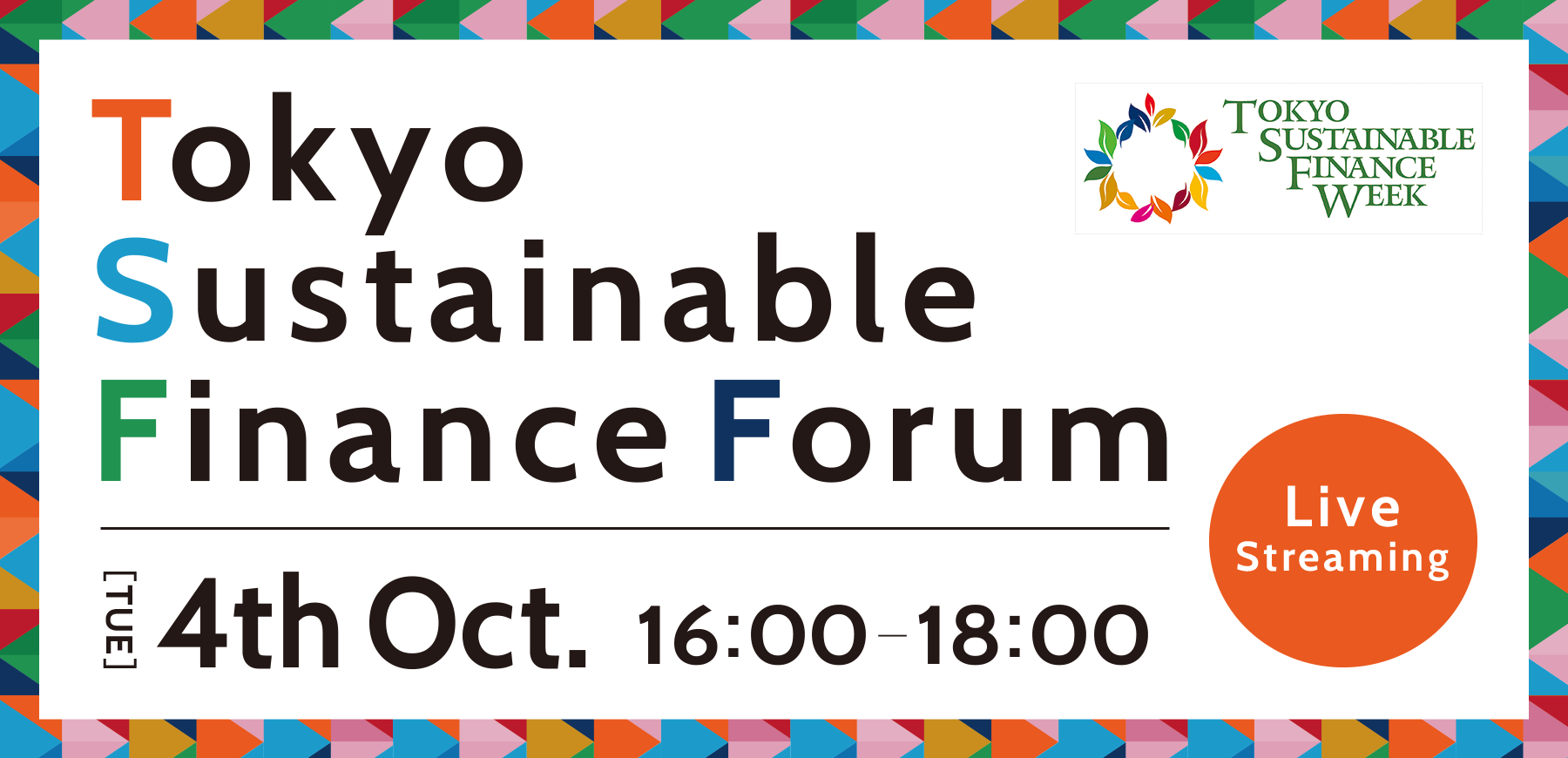 Tokyo Sustainable Finance Forum
Event Outline
This forum is aimed towards stakeholders of domestic and international financial institutions, etc., and will address subjects pertaining to global trends and future outlook of sustainable finance. The program features lectures by experts from both Japan and abroad, with business pitches by fintech companies that are thriving in the sustainable finance sector.
Organizer

The Organization of Global Financial City Tokyo

Sponser

Financial Services Agency, Japan Exchange Group, Inc., Tokyo Stock Exchange, Inc.

Date and time

Tuesday, October 4, 2022, from 4:00 PM to 6:00 PM (JST)

Distribution

Live online video streaming
*simultaneously in Japanese and English.
*An e-mail including the URL link to view the live stream online will be sent to individuals who have applied for this forum.

Capacity

There is no upper limit to the number of participants.

Participation fee

Free
Concept
Grasping the latest trends surrounding "sustainable finance"
At present, countries around the world are all facing an urgent need to tackle social challenges including climate change.
Sustainable finance, which draws on financial methods to resolve social challenges and build a sustainable society, has become a worldwide trend. Through lectures and business pitches, this forum will provide the latest information on sustainable finance.
Lectures by a diverse range of experts from Japan and abroad
Overseas guest speakers will include experts from the UN-supported network PRI (Principles for Responsible Investment), the World Bank and the world's largest hedge fund Bridgewater Associates. From Japan, the Commissioner of the Financial Services Agency (FSA) Junichi Nakajima, and experts from banks, asset management companies and sustainable companies, will join as speakers. They will give talks from different perspectives, which will help you understand the current state of sustainable finance from multiple aspects.
Business pitches by foreign green finance companies expanding to Tokyo and domestic start-ups
The Tokyo Metropolitan Government has implemented "Green Finance Subsidy Program for Tokyo Market Entry " to intensively support Asset Management Business Operators and FinTech Companies engaged in green finance to start new business in Tokyo. This forum will also feature business pitches by Cogo from New Zealand, one of the subsidy recipients last fiscal year, and RepRisk from Switzerland. Domestic presenters of business pitches will include a start-up fintech company, DATAFLUCT, and Sustainable Lab, both of whom offering sustainable finance services.
Program
16:00-16:10 Greetings by the organizer

16:10-16:20 Lecture①"ESG reporting trends: an overview"(Video)

16:20-16:40 Lecture②"A Holistic Approach To Sustainability"(Video)

16:40-16:55 Lecture③"A Paradigm Shift in Investing"(Video)

16:55-17:10 Lecture④"Future Sustainable Finance Initiatives"

17:10-17:35 Business pitches

17:35-17:45 Lecture⑤"Trends in Sustainable Finance and Mizuho's Initiatives"

17:45-17:55 Lecture⑥"ESG Investment Strategy for 2022″

17:55-18:00 Greetings by the governor of Tokyo(Video)
Contact information
Seminar Secretariat, Financial Market Information Div, Jiji Press
E-mail:mk-seminar@jiji.co.jp