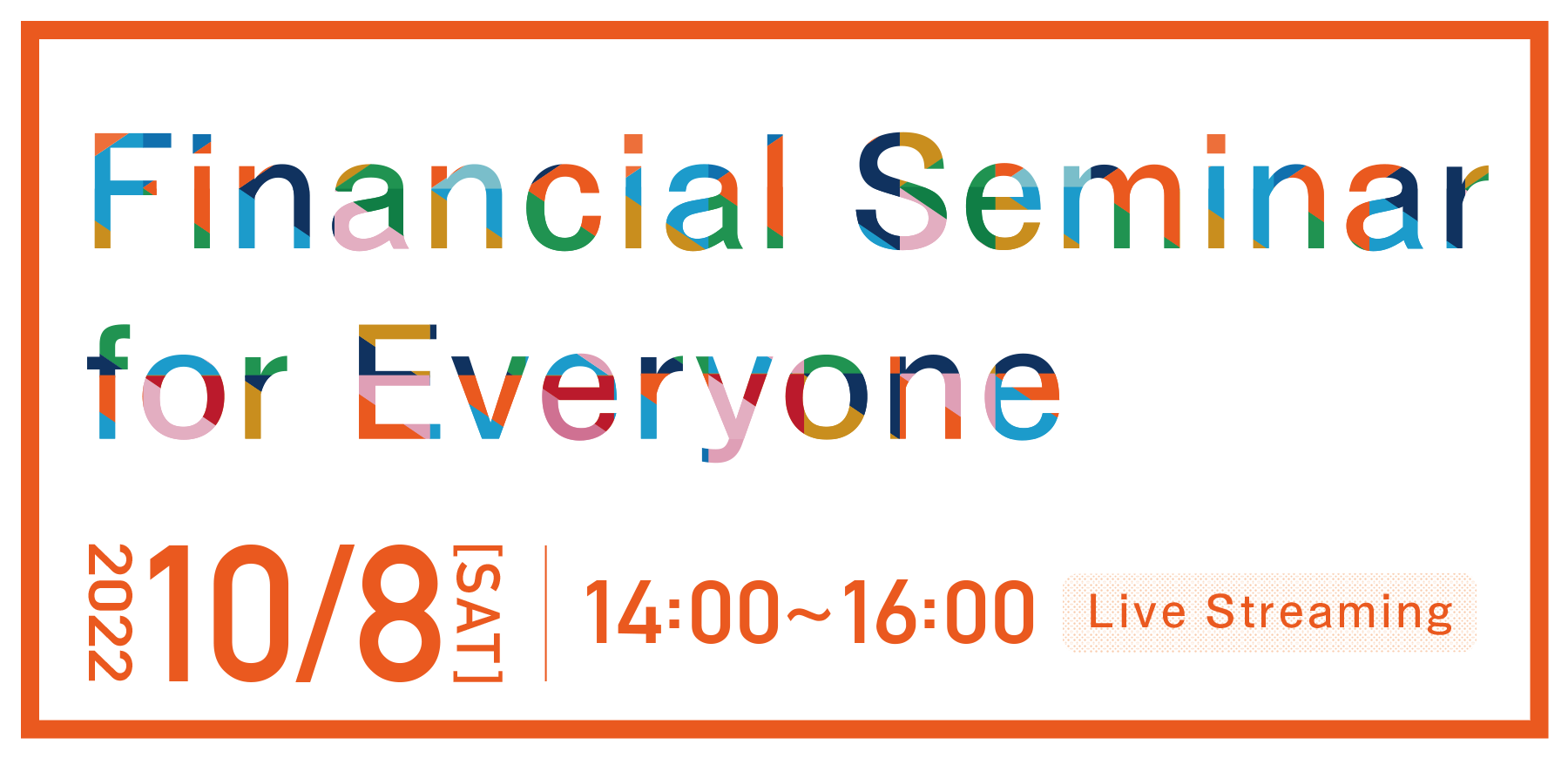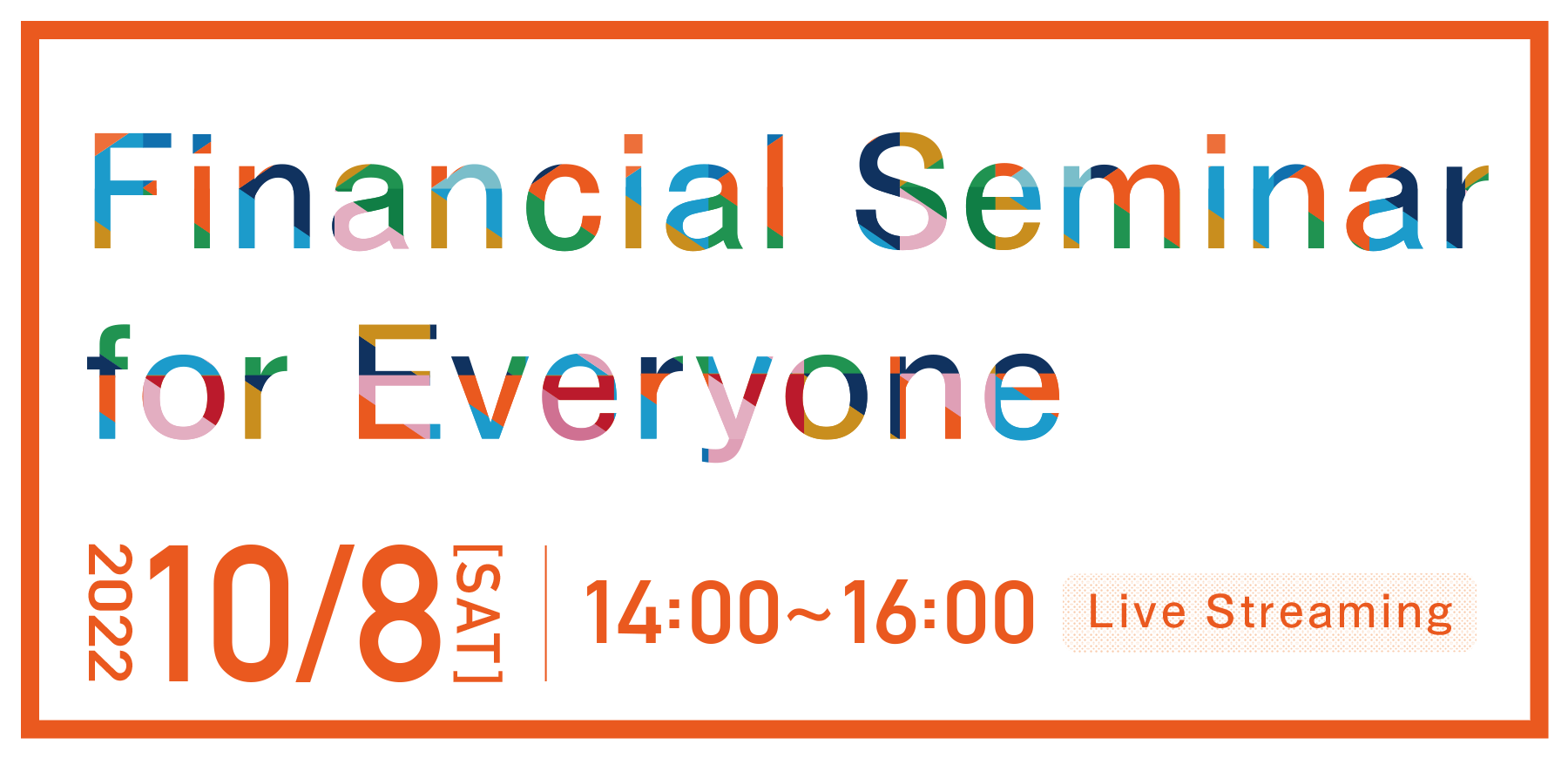 This seminar is presented only in Japanese.
Financial Seminar For Everyone
Event Outline
Financial Seminar for Everyone  is a seminar designed for those who are interested in and/or who want to start investing. They can learn the basic knowledge of sustainable finance, investment and finance and improve their financial literacy.
Date and time

Saturday, October 8, 2022, from 2:00 PM to 4:00 PM (JST)

Distribution

Live online video streaming
*An e-mail including the URL link to view the live stream online will be sent to individuals who have applied for this seminar.

Capacity

There is no upper limit to the number of participants.

Participation fee

Free
Theme: Learn the basics of sustainable finance and investment
Recommended for those who
want to properly gain more knowledge about money
are interested in investing, but are wondering where to start
have heard of sustainable finance and ESG investment, but have minimal understanding of such
You can learn
the concept of asset building and available programs
the basic knowledge of sustainable finance and ESG investing
relations between society and sustainable finance, and sustainable finance in our daily life
Program
Presenter:Economic analyst
Mariko Mabuchi
14:00~

Lecture: "Changing the world through sustainable finance for the SDGs"(30min)
【Instructor】Professor of Keio University Graduate School
Norichika Kanie

14:30~

Discussion(10min)
Norichika Kanie, Mariko Mabuchi

14:40~

Lecture: "Smart Asset Building Techniques for the 100-Year Life Era: How to Use iDeCo and NISA"(30min)
【Instructor】The representative of FP office "i Planing"
Kumi Iimura

15:10~

Discussion(10min)
Kumi Iimura, Mariko Mabuchi

15:20~

Lecture: "The basics of sustainable finance"(30min)
【Instructor】Head of Self-index and ESG Business Development, Invesco Asset Management Japan
Seiichiro Uchi

15:50~

Discussion(10min)
Seiichiro Uchi, Mariko Mabuchi
Speaker
Presenter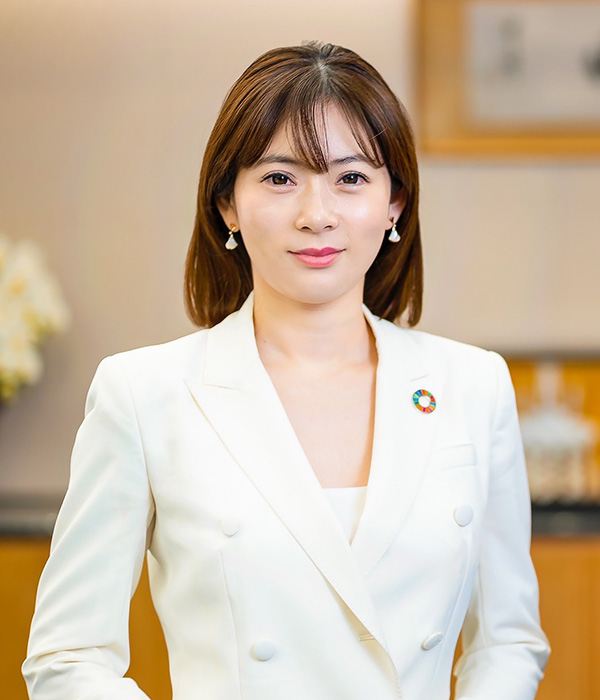 Mariko Mabuchi
The chairperson of The Japan Research Institute of Financial and Economic, Economic analyst, MPP

After graduating from the School of Government, Kyoto University, Mabuchi worked as a trader in charge of corporate asset management before becoming an economic analyst. She appeared in the media for a number of programs, including LIVE NEWS α by Fuji Television Network as a regular commentator. Using her knowledge as an economic analyst, she also gives speeches at many lecture meetings for corporate managers and the general public. "A society which allows people to willfully make their own choice in life" is her policy, under which she works toward a society where all people can lead a flexible life based on their own values, rather than someone else's.
Instructor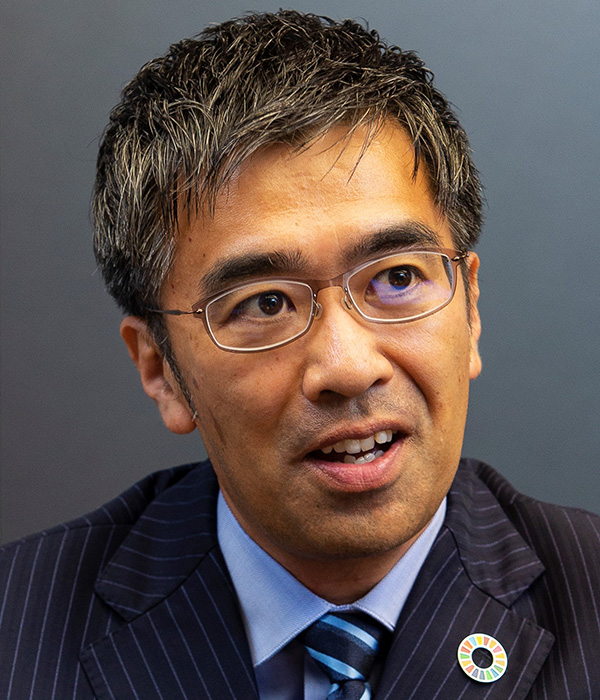 Norichika Kanie
Professor, Graduate School of Media and Governance, Keio University 

He is also a representative of xSDG Laboratory, Keio Research Institute at SFC.Before joining Keio, he worked at the Graduate School of Decision Science And Technology, Tokyo Institute of Technology, and the Department of Policy Studies, the University of Kitakyushu.  He serves on various committees and steering groups, including; a member of the SDGs Promotion Roundtable Meeting, established by the Japanese government under the SDGs Promotion Headquarters; a member of the Expert Study Group for the Promotion of SDGs by Local Governments for the Japanese Cabinet Office, and also he has been appointed External director of RENOVA Inc. for 4 years from 2017. His research focuses on International Relations, Sustainability Science and Earth System Governance. He has participated in the formulation of the Sustainable Development Goals (SDGs), the common goals adopted by the United Nations, from the conception stage. He is a leading authority on the SDGs, and is striving to balance research and practice. His recent publication is 「SDGs(Sustainable Development Goals)」(Chukoshinsho, 2020)Norichika Kanie is appointed 15 independent scientists to draft the second quadrennial Global Sustainable Development. He received his Ph.D. in Media and Governance from Keio University.
Instructor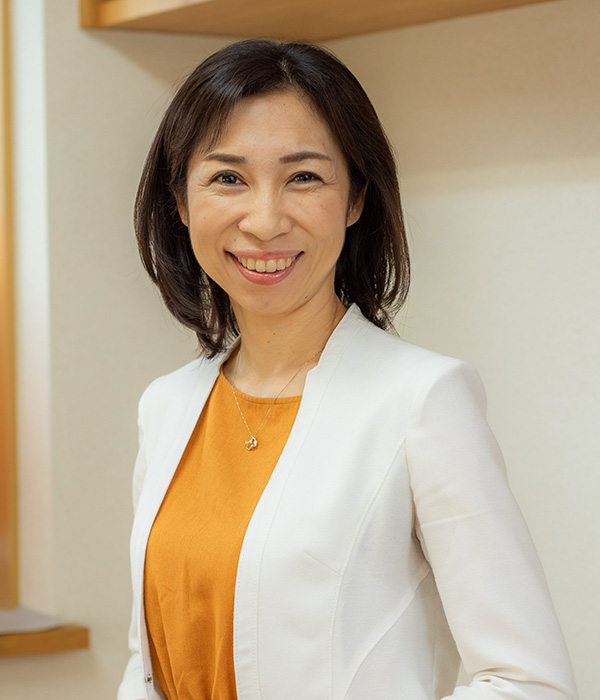 Kumi Iimura
The representative of FP office "i Planing"/FP

Iimura became an independent financial planner after working with financial institutions. Under her motto of "Supporting peoples' dreams and revitalizing Japan starting from the family finances," she provides knowledge about money in simple terms. She has offered advice on family budgeting to more than 1,000 households. A professional financial planner with 20 years of experience, she has appeared in the media for many programs.
Instructor
Seiichiro Uchi
Head of Self-index and ESG Business Development, Invesco Asset Management Japan

Seiichiro Uchi is Head of Self-index and ESG Business Development at Invesco Asset Management Japan. He joined Invesco in February 2020. Prior to that, he was Managing Director at MSCI Japan where he was in charge of MSCI's index and ESG business for about ten years. He is recognized as an expert of index-based strategies and ESG investment, spoke at numerous seminars including Japan Securities Analyst Association, World Economic Forum and Asian Development Bank, and contributed various articles to the industry publications. Before MSCI, he was head of index marketing for APAC at S&P Index Services. He started his career at Tokyo Stock Exchange. He holds Master degree from Waseda Graduate School of Finance.
Contact information
Seminar Secretariat, Financial Market Information Div, Jiji Press
E-mail:mk-seminar@jiji.co.jp