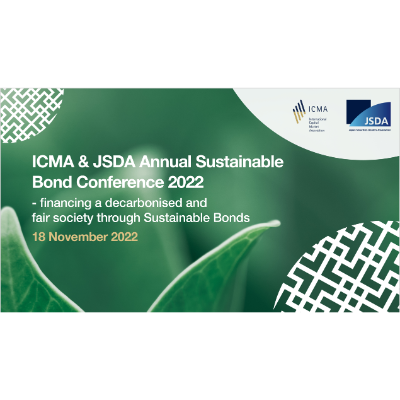 Relation event
event date : 18 November 2022
ICMA & JSDA Annual Sustainable Bond Conference 2022
Event outline
The ICMA & JSDA Annual Sustainable Bond Conference – financing a decarbonised and fair society through Sustainable Bonds, presented by the International Capital Market Association (ICMA) and the Japan Securities Dealers Association (JSDA), will be held to discuss the progress and prospects of the sustainable bond market, in a hybrid format with in-person side taking place in Tokyo.

Over the past years Japan's sustainable bond market has grown substantially, from USD12.7 billion in 2019 to USD37.9 billion in 2021, whilst the issuance in 2022 has topped USD 32 billion so far. Green bonds dominate the Japanese sustainable bond market and account for 46% of total issuance year-to-date, followed by social (30%), sustainability (15%) and sustainability-linked (9%) bonds.

The 6th edition of this annual conference focuses on the further development of transition themed bonds, a deep dive into the emerging issues in use of proceeds bond market (e.g. green bonds, social bonds, and sustainability bonds), and expectations for sustainability-linked bonds in the Japanese market, with various case studies and key initiatives from the Japanese government and the private sector.
Co-host

International Capital Market Association (ICMA)
Japan Securities Dealers Association (JSDA)

Date and time

18 November 2022 13:00~17:25 (JST)

Event type

Hybrid
Venue: KABUTO ONE HALL & CONFERENCE
Online:Webinar on Zoom
*Simultaneous interpretation (English/Japanese) will be available.

Admission

This event is open to all ICMA and JSDA members and any interested parties free of charge.

Check out the links below for more details
Contact information
If you have any question, please contact ICMA events.